Community Development Projects
Making A Difference with Community Based Tourism
In 2014, Andaman Discoveries helped to launch the North Andaman Network (NAN) Foundation, which focuses on our Community Based Development projects in communities along the North Andaman Coast.  In cooperation with the North Andaman Community Tourism Network, Andaman Discoveries and NAN seek to support these communities in creating and implementing sustainable projects that help to develop their ability to adapt to changing environments.
Below you can find our current projects and a list of all our service projects from 2007 until now. Also you can see how we spend our budget and how tourism can be a force for good.
Highlights from the Last Year
Just looking at the past year, Andaman Discoveries has accomplished many great things with the help of guests, volunteers, and friends like you:
Scholarship Program: We sponsored 80 students with another year of full scholarships, ensuring these students will have access to an education and the funds to cover textbooks and materials
Moken Fund: helped the Surin Moken Tourism Group to build a new roof for the viewpoint sala, purchase shirts for local guides, create informational signs and packets for guests, provide scholarships for Moken students, and supported a medical fund to cover the cost of care for seniors.
Burmese Learning Center: raised funds to support teachers salaries and transportation for all students, coordinated with community service project groups to renovate and upgrade facilities at the center.
Volunteering Programs: over 20 volunteers dedicated weeks of time to teach English at the Burmese Learning Center and rural schools, helping to increase knowledge and contribute to the ongoing operations of the BLC.
Mangrove Conservation: coordinated with Mangroves for the Future and local communities to provide educational and conservation activities to foster a stewardship of this vital forest.
Community Based Tourism: With the help of the North Andaman Community Tourism Network (N-ACT), we responded to the needs of several new communities interested in using tourism as a tool for development.
As we reflect on our accomplishments and partnerships, we are extremely grateful — especially in these difficult times — for your continued support and interest in our pioneering work.
 How we spend our budget
Andaman Discoveries is as a social enterprise, a business that is intent on bringing a direct benefit to society and our local environment.  Our Community Based Tours generate a profit which helps to runs our operations, allowing us to continue our work for local communities, and
Projects by Category

Volunteer and Service Learning
Students learning about Nipa palm weaving, one of Ban Talae Nok's sustainable livelihoods.
"The thing that I liked the best about this program and AD is that it allowed me to go to places and get involved in activities that I would not have known about otherwise. If I were to come to Thailand on my own, I doubt I'd have ventured too far from the major cities, so this definitely made for a worthwhile and more authentic experience with Thai culture," said Michelle Honda, UCLA student.
For the final project, students had the opportunity to do their work in different places. Some students spent five days at Ban Lion Village on Koh Phra Thong Island. The group's activities included two mangrove study visits, interviews with the locals regarding the opinions and impacts of community-based tourism at Ban Lion, homestay sign preparation, making certificates for the winners of a garden competition, as well as repairing the school-kitchen garden fence.
Students also spent three days at Koh Ra Ecolodge. Awe, Study Tour Project Coordinator said, "On Koh Ra, the students did a hornbill and strangler fig count. This type of information has not been recorded before and is essential if we are to know the impact of humans and ecotourism on the island. They also learned how the sea nomads use medicinal plants and natural resources."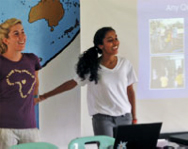 UCLA students present their community-mapping project to the group.
"For our final project, we came to the island to do community mapping with the kids but ended up having the kind of unbelievable experience that can never be planned. While we collected a great deal of information and conducted many mapping exercises, I think that we learned the most through simply spending time with the warm and welcoming people that we met. Adults in the community welcomed us into their homes and we were able to talk to them about their livelihoods and their hopes for their children. We helped the children clean the temple and the monks even presented with necklaces and Buddha pendants. As our boat left the pier on Saturday afternoon, the children waved goodbye from the dock. I did not expect that I could ever become so attached to a place where I spent just three days." Anuja, UCLA student.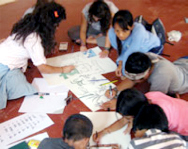 "Our mission was to collect water samples from five different areas of the Naka stream. We also had to collect a water sample at each site and record the stream's depth, width and temperature. Our Thai partners (the Naka Youth Group) helped with everything and we all managed to get by and get along very well. I'm really glad that I learned my numbers in Thai because they came in handy when we all took measurements for the width, depth and temperature. We finally came across the infamous and endangered water lilies that can only be found in this area (in the world).
Jun, UCLA student.
Visit the UCLA blog and the UCLA Institute of the Environment web site, to read more about the UCLA study tour. Also, please feel free to contact us if you'd like to know more about the program.
And special thanks to everyone who collaborated to make the UCLA study tour possible.
Week Without Walls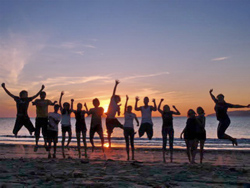 The International School of Bangkok (ISB) became AD's first high school community service group in February! The pack of 21 students hailed from around the world, forming a truly diverse mixture of guests. Lead by Tui, our fearless Director and Translator, the students experienced a variety of activities that the Northern Andaman Coast has to offer.
The trip started in Ban Talae Nok where the students got a taste of traditional Thai cooking. The local youth group lead ISB through the nearby Nipa palm conservation project, explaining their efforts to preserve the environment by working with natural tidal processes to sustainably harvest crops. The ISB students then had an afternoon of weaving nipa palm leaves to make traditional roofing materials, and working with the Ladies' Soap Cooperative to mix up a batch of fresh soap!
The students spent the next day at Koh Ra Ecolodge, an environmentally sustainable outfit on an island off the Andaman Coast. They learned about local wildlife, conservation efforts at the lodge, and the nearby Reef Check Project.
ISB followed up Koh Ra with two days of fun and games at local school events. First, they visited Kuraburi High School, sharing their English conversational skills with the younger students. The following day they attended the Family Fun for National Children's Day in Khoalak, an event encouraging Burmese family interaction and integration with the Thai community.
We sent ISB off with a farewell dinner in Khoalak, where they shared their favorite learning experiences throughout the trip. As the waves crashed on the beach in front of the restaurant and we enjoyed a delicious Thai dinner and sent the ISB students back to Bangkok in style. After returning home, the students wrote a class blog to recount their time with AD!
Helping Hands – University of Birmingham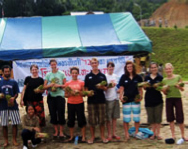 The volunteers join a community planting day at the local school.
In their third year of partnership with us, nine students from the University of Birmingham International Volunteer Society (Intervol) joined us after having raised 1,900£ (about 180,000 Thai Baht) to fund a variety of projects over a five-week period.
Conservation activist and community leader Khun Likid of Tung Rak community was so impressed with last year's International Volunteer Society volunteer's bridge-building efforts at the conservation centre, that he invited this year's group to build a path at the local temple. "There is no safe access to the area of worship," explained Khun Likid. "The community thought this would be a worthwhile activity for the volunteers and a great way for them to learn first hand about Buddhism."
"The nine of us spent five days in the village of Ban Talae Nok. Four families in the village offered their homes to then us to allow for a taste for the Thai way of life. We spent each morning teaching English to children aged between seven and 13 in the local school. The children were very pleased to see us, very eager to learn and participate in activities we'd prepared for them. By the end of the week they seemed to have made good progress. We also cleared a sediment-filled drain with the villagers, acted as 'pilot' tourists for the batik group and Nipa palm craftspeople so they could practice with farang (westerners), made roti for breakfast with our homestay families and cleared a nature trail near the beach. We found the village so welcoming and friendly that we were sorry to leave it behind. The younger generation of the village seems set to be a great success for the eco-tourism industry, and we wish them all the luck in their future endeavor." International Volunteer Society, Birmingham University
Crooked Trails to Villages and Schools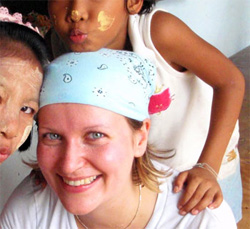 Environmental activist Edward Abbey famously said: "May your trails be crooked, winding, lonesome, dangerous, leading to the most amazing view." Crooked Trails, the non-profit, community-based travel organization whose name was inspired by this quote, joined Andaman Discoveries for a service tour in November seeking their own amazing view of the North Andaman region. They found it at the Burmese Learning Center and in Tung Dap village.
"I have fallen madly in love with some Burmese children. They follow you with their eyes until contact is made and then they might smile at you. Once these two things have happened, you realize your heart is no longer your own," said participant Noelle, who helped the group paint classrooms at the school. Todd, who led the group of ten, added, "the school project was wonderful and meaningful. The group felt their presence was appreciated."
You can read Noelle's complete Blog entry on our website.
The group also spent two days in the village of Tung Dap, where they enjoyed a homestay and helped with mangrove conservation. Of their homestay in Tung Dap, Noelle said "I am listening to conversations in languages I do not understand. The wind talking to the trees. The clucks of chickens and roosters beneath the beams of the house I am sitting in. The scent of onion, sizzling as our hosts prepare dinner. Children's brief calls. The silence of cats and dogs sleeping. The rumble of man and machine. The dash of geckos on the roof. I may not understand them, but knowing them, in this moment, gives me peace."

Meeting Basic Needs
As a Moken woman from Tung Dap, Jariya (Noi) has been one of the leaders in rebuilding her village after the tsunami, and has also been involved in our waste management and mangrove conservation projects in the village. Jariya needed an urgent heart surgery in January 2008, but was not scheduled for a government operation until six months later! We consulted an expert in Phuket, who realized there was no time to lose, and referred Jariya to a Bangkok hospital for immediate surgery. After a four hour open-heart operation, in which one valve was replaced and another extensively repaired, and a two-week recovery period, Noi has recovered from the surgery. Bodhi Garrett, the founder of Andaman Discoveries said, "The time I took to help Jariya with the operation was a reminder of why Andaman Discoveries was founded. Underlying the details of our work is a commitment to improving the daily lives of those we serve. In other words, compassion is at the root of what we do."
Moken community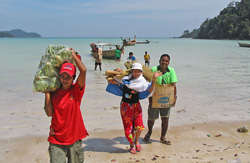 Andaman Discoveries doesn't usually support the donation of food or clothing, as we would rather address the socio-economic circumstances that create that need. However, after an urgent request for assistance by Narimon Arunonpai, a respected social researcher from Chulalongkorn University, meant we had to take action. The Moken community on Koh Surin National Park was in need of rice and basic cooking necessities as bad weather had prevented them from fishing in October 2007. Many of the villagers were growing weak and becoming ill. The community had come to the mainland for their Tenth Month Ancestor celebrations and each family received a 10-kilogram bag of rice, fish sauce, dried chilies, and other ingredients to keep them going until the following month when they would be able to commence fishing again.
Adult Education
Computers, Health, and High School Diplomas
A health fair and first aid training was held in Ban Talae Nok in May 2009, with support from YouthLINC. The volunteers provided hands-on training on emergency medical care. Other topics included: dental care, hygiene issues, and family planning.
Many adults in the region lack a formal education, with many leaving school early to assist their parents. As a result many are illiterate and do not have a high school diploma which makes it difficult to gain formal employment. Free informal education classes have been set up at the community centre of Ban Talae Nok. Andaman Discoveries donated the books to the villagers in early 2008. Since then, 15 persons have obtained their high school diploma, and the number of graduates continues to grow as the books continue to be passed onto others.
A volunteer provided a month long computer training for 20 participants in Ban Talae Nok village in early 2008. Topics included: computer basics such as how to turn on a computer, and using software applications such as Microsoft Word and Excel. The majority of the students graduated from the program.

Education and Youth Development
Youth Welfare – Music, Gym, & Library
Andaman Discoveries donated gym equipments to a local Thai boxing gym in Kuraburi town in 2007 to support the gym owner's idea of providing free classes to youths in the area. "Young people get bored easily and this can lead them into trouble," explained Ajarn Mon. "This training centre allows them to focus on something and keep them fit at the same time." Visitors can join morning and afternoon training sessions to learn about this much respected ancient sport.
Over 200 books were donated to the library located in the Ban Talae Nok community centre in 2007 by Andaman Discoveries. The library was opened to all villagers. It has been closed since the beginning of 2009, but will soon be reopened again.
Ban Talae Nok School received a donation of Thai traditional instruments that have been locked up in the music room for months, as no one in the village could provide proper training on them. Andaman Discoveries hired a traditional music teacher to teach the children in the school for three months in late-2007 and early-2008 to learn about the basics. The students performed in front of Her Royal Highness Princess Maha Chakri Sirindhorn, at the official opening of the Ban Talae Nok School in May 2008. The children continue to play the instruments since then.

Community Development

Conservation

Mangrove Restoration and Protection

Ban Talae Nok Youth Group

Sustainable Tourism Development